Materials, usage and cleaning
Materials
The building boards are made of high-quality EVA foam and are free of phthalates and other harmful substances. They have been tested and approved for children down to the age of 0 years according to the European standard for toys EN71.
Avoid contact with open fire and other heat sources.
Do not chew the building boards as small pieces of foam may get stuck in the throat.
The product may give off an odour in the beginning, but this is neither harmful nor toxic and disappears over time.
To avoid glue, the colours are fused together, which causes the distribution of colour to vary.
The colours may exhibit slight variations, especially regarding the grey colour.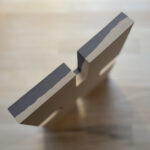 Usage
Recommended for indoor use, but may also be used outdoors. Be aware, however, that if the product is stepped upon wearing shoes or stepped on while resting on top of an object with a sharp edge e.g. a stone or if the product is exposed to sharp instruments or objects, this may leave permanent marks. However, this does not affect the functionality of the product.
Cleaning
The building boards may be rinsed using soap and water or spirits. 
Fabric
The roof consists of printed, 100% strong cotton fabric. Print and fabric are certified to oeko-tex Standard 100.
Cleaning
The cotton fabric may be washed at 40 °C.